Dexterity News   •   June, 2018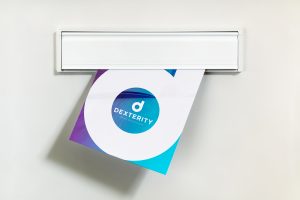 Now that the dust is beginning to settle after the (some would say unnecessary and detrimental) glut of opt in emails in the days and weeks prior to GDPR, we are continuing to see a spike in requests for leaflet door drops and hand to hand marketing.
The ability to recover and replenish databases ransacked by last minute, and at times panicked adherence to the new data regulations has given door drops another raison d'etre, along with the launch of JICMAIL (the new Joint Industry Committee for Mail), and with it an increasingly measurable ROI.
Whilst local, event specific advertising has always benefitted from this form of communication, door drops have generally been seen as the poor relation of the marketing mix, however the value of a well thought out and targeted campaign is beginning to become more apparent.
Latest Royal Mail research highlights not only the novelty factor of printed material for the 'selfie generation', who are 32% more likely to trust information in print v digital, but also that 'Sharers' are by far the most amenable to unaddressed mail, (as well as being twice as likely as other groups to provide their personal details to companies)
Research also shows that door drop mail stay in the house for 38 days, compared to 17 days for addressed advertising mail, a difference that is likely to  extend as personal data security in the home intensifies, again increasing its' value.
We work with clients to ensure that door drops will work as hard as possible for them, and become a valuable element of campaigns. Whether the emphasis is on content and call to action, creativity of design, or on geo-targeting and profiling of recipients, a well thought out and effectively produced door drop campaign can produce excellent results
Dexterity offers a full service door drop service, from concept and design, through production and delivery.
All our door drops can be GPS tracked, and are managed through a customer service team who can provide daily or real time progress updates.
We also offer a back checking service, which will provide a report highlighting the level of recall for the drop, an invaluable tool for future marketing plans and strategy.
Please visit https://dexterityme.com/contact-dexterity/ to submit a quote request, or contact me at david.timpson@dexterityme.com  for further information.
Accreditations: Royal Mail MarketReach, Private Life of Mail.
The Life Stage of Mail, Marketreach June 2016