Bespoke Wallpaper, Digitally Delivered
Leading corporates, retailers, property developers, schools and interior design professionals have produced digital wallpaper with Dexterity. The evolution of digital print technology allows you to reproduce any image to almost any size – the only limitation to what is possible is your own imagination.
If you are thinking about Digital Wallpaper as a feature of your interior space, Dexterity can offer you design consultation, graphic design services, and, once the Digital Wallpaper has been printed for you, installation services.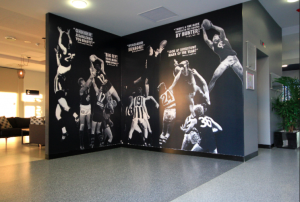 Wallpaper media options
If you want to cover a wall or internal space with graphics of any kind, think about digitally printed bespoke wallpaper. HP PVC-Free Wallpaper offer a super-smooth finish. This pre-pasted 165gsm wall covering is fire certificate approved and meets all internal safety standards. Mould and mildew resistant, this indoor display should last up to 20 years. Other options include Muraspec Digimura Smooth, a satin non-textured finish that does not damage surfaces when removed, and FabriTac® Self Adhesive Wall Fabric – removable and re-positionable.